A Milestone of New Beginning
Marriage is the base ground or the strong foundation of our commitment to the love that would last a lifetime even in the most challenging times of life.  We are now moving ahead with our lives as one body and soul in the journey to forever.
I am an Asian and my husband is a Latino, 2 different people of different race, different culture, different principles and beliefs and a total different well being. We have met as strangers in a social network back in 2009, built a constant communication from 2015 and through this we have known each other well. We offered each other friendship but the continuous  talks and sharing of everything became a special connection between me and him that eventually resulted to that special feeling of love that we never really expected. Even us didn't believe with this kind of relationship before but as it happened to us, I could say now that it's true. Love has no boundaries, its a magical thing that can happen even to the most unexpected way, it was real and it did really happen as the reality of the beginning of our love story. From then we made sure to introduce each other to our families even only through tools or by  technological means of communication. Despite the doubts and questions that they have, we were blessed to have their happiness for both of us and their approval to our relationship.
As we knew the sea of life has lots of waves, the challenges and trials are inevitable and through this we tests ourselves how strong we are as a human being. We, at the same time realized how strong is our relationship to the people who truly love and care about us. This is how we build the foundation of our relationship to each of our loved ones especially to our partners in life.
We were in the delight of love when life strikes its strongest storm to one of us. My father got a motorcycle accident and after a day he passed away, it was the hardest struggle I've been through and with the pain and grief, sorrow had drowned me. At first I thought I would reach my weakest point but I stood firm because of the unconditional support and love of my partner/boyfriend. He slowly lifted my spirit from sorrow and despair of loss, he had offered me the unconditional support I really needed in those darkest times of my life. Love has been so powerful that even though he was in the farthest place away from me and with the difference of time, it never became a hindrance to communicate and be with each other in those times of suffering and hardship.As I try to accept the process of healing, he became one of my inspiration and motivation to move ahead with life and see another light of new beginning. He had came to visit me in my country, had talked to my entire clan of family and brought me to some places I could unwind to freed myself from all the thoughts of the painful past I've been through.
From our trips, we have shared our own special moments together in which we have known each other's character and stories of identity. Our love for each other had developed into maturity and more serious state until finally we have decided to settle down into a decision of getting married. By that time my fiance had to go back to his country to let his family know and I've done the same, I have talked to my mom and brothers about it as well. As normal reactions of concerned parents, the acceptance was not easy. Due to the fact that we just met on the web and we came from a total different race and culture, doubts and hesitations from our families cannot be denied.
The decision of getting married means the acceptance of the whole family from our both sides, despite all the risks and in whatever situation of life we are in. It was a tough decision to make considering that those risks might result to a total success or total failure. Concerns about the possibilities of "what if's" and "if only" were a risky truth to take and a courageous matter to be conquered. Doubts and hesitations from our families have been addressed well and known to us for the assurance of understanding all the consequences of our decision and the risk we would want to take. But our love had overruled everything, it was brave, courageous and strong, it had been our assurance against the uncertainties, our only reason to believe to the success of our relationship.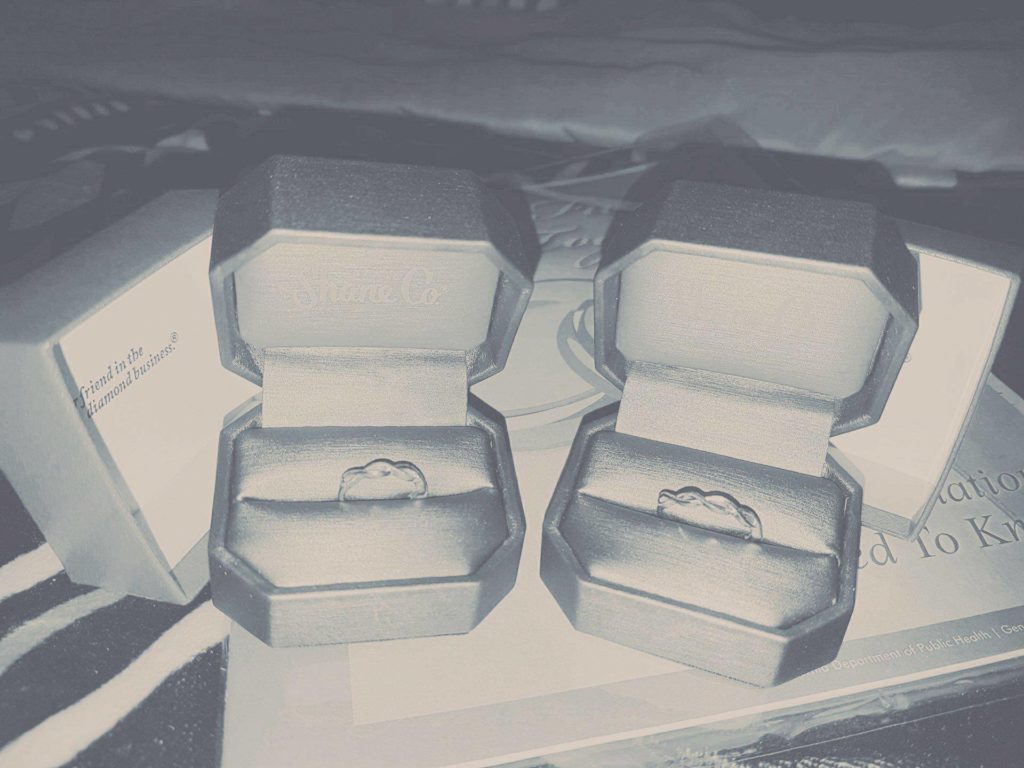 23rd of March 2017- Wedding day. Simple but very joyous day to celebrate when our relationship was finally in the legality of lifetime commitment. Being young and married is quite a blessing and a blissful start for both of us. As a couple who started from a very distant commitment, it was a true joy to be in each other's arms after the sacrifice of being apart for a year. Having been in a long distance relationship is quite a long journey of communication, the only way to build the force of our relationship into reality and to see the truth behind the distance that sets us apart. When I say communication, it was not just through words but the feeling of being fully related with your special someone. As if he was always present beside you consciously listening with his whole being, all his concerns and care. Individually, we have our own separate stories of storms in life but through the power of connection that we have created in our commitment, each of us became the strength of each other.
19th of September 2017– We are now happily married and with the love and grace of God, we are blessed to have our most precious little girl. Stepping up to the milestone of family life, a new beginning with full of hopes and prayers to a love that would last a lifetime.